In October
Art for a Reason
began a collaboration with the Swedish company
Paddla för livet
(Paddle for life). They organize tours to collect garbage in northern seas and lakes by canoeing and diving. We will develop products together and disseminate information about the sea and its inhabitants to inspire to active engagement for a healthy sea. Art for a Reason interviewed the founder Tim Ekstam:
How did "Paddla för livet" start?

The idea began when some friends and I were paddling and spending a lot of time in the nature. It became a fun thing to collect garbage, there is so much, and we gathered more and more. I then started the company with this unique way to work for a better environment.

What is your main goal?
We want to contribute to a better environment with an active involvement and not just talk. We collect trash with environmentally friendly methods combined with outdoor recreation. We want to inspire and engage as many people as possible. Giving talks and lectures on what damage is done by human trash in the nature seems urgent.


What response have you received so far?
Quite overwhelming actually, we have received a lot of attention from TV and newspapers. Many people show an interest and want to help collect litter or wonder how they can contribute in other ways.


What is the worst thing you've seen on any of your expeditions?
On a Baltic Sea beach I found a sticky black lump the size of a hamburger. It was piece of gluey oil that stuck to my hands, I was really disgusted. Other than that, we find a lot of plastic and half dissolved plastic that is very dangerous for the wildlife.


What is your future vision for the company?
This will be an inspiring movement for all that we can take better care of our environment. We want to get more people to pick up garbage and we want to show what happens to human waste in the nature, and get people to stop littering. A cigarette butt in the sea poisons up to 10 m3 of water. This results in major damage to the plankton and small fish, which in turn are eaten by larger fish that humans eat.

Paddla för livet's latest expedition took place this November during two weeks along the Swedish west coast where they collected over 600 kg of garbage! The expedition members were equipped with dry suits, diving masks, headlights, tents and their kayaks. The debris was collected by free diving of up to 20 m deep and along the shorelines. More at
www.paddlaforlivet.com
or
Facebook.
« Like » the Paddle for Life on Facebook and they will pick one kg of trash!
Charlotte Nicolin's art will be on display as well as her interior furnishings items in the store Q No: 1 Communication & DESIGN. The shop is located in the touristic and historical town of Ronneby in the southern part of Sweden. If you will be in the area you are welcome to attend the VERNISSAGE the 12th of July 2012. Charlotte will be present and she will talk about her art and her involvement in the protection of the Baltic Sea wildlife.

After this date the shop owner and interior decoration consultant, Elisabet Håkansson will continue to distribute Charlotte's work. She will also collaborate with cultural, educational and environmental institutions spreading the informative project and artwork on the Baltic Sea and its wildlife.

VERNISSAGE starting at 19h the 12th of July 2012
Welcome to Q No:1 Quality Design - Karlskronagatan 19 - 37230 RONNEBY - Sweden - 004670-3975610 - www.qno1.se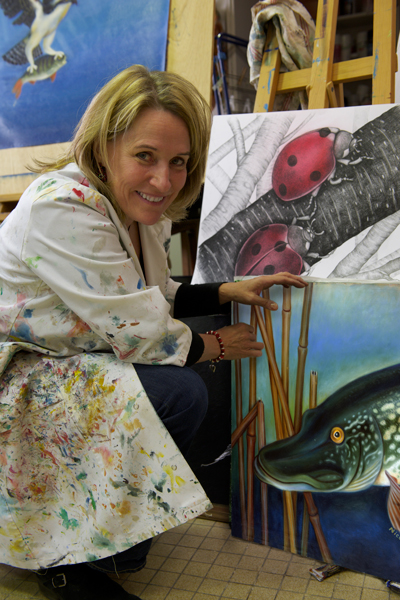 Artist:
Charlotte Nicolin
Photo: Dan-Åke Carlsson
This Swedish publication presents Charlotte Nicolin's art and her involvement in the Baltic Sea wildlife. To read click on this
link
.