Charlotte Nicolin's art will be on display as well as her interior furnishings items in the store Q No: 1 Communication & DESIGN. The shop is located in the touristic and historical town of Ronneby in the southern part of Sweden. If you will be in the area you are welcome to attend the VERNISSAGE the 12th of July 2012. Charlotte will be present and she will talk about her art and her involvement in the protection of the Baltic Sea wildlife.

After this date the shop owner and interior decoration consultant, Elisabet Håkansson will continue to distribute Charlotte's work. She will also collaborate with cultural, educational and environmental institutions spreading the informative project and artwork on the Baltic Sea and its wildlife.

VERNISSAGE starting at 19h the 12th of July 2012
Welcome to Q No:1 Quality Design - Karlskronagatan 19 - 37230 RONNEBY - Sweden - 004670-3975610 - www.qno1.se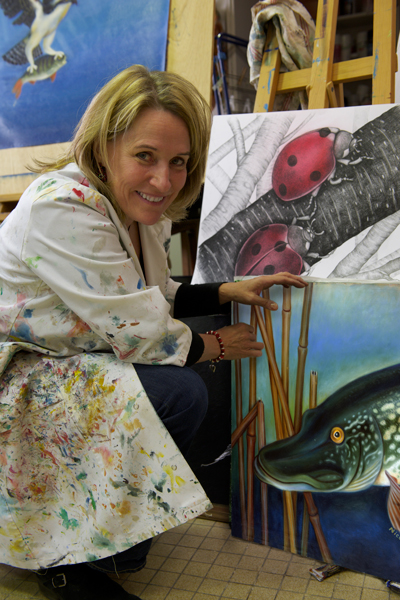 Artist:
Charlotte Nicolin
Photo: Dan-Åke Carlsson
Stockholm Archipelago Fair – Skärgårdsmässan and Baltic Meeting Days 28 - 30 May 2010
Welcome to visit us at this splendid location. We will exhibit a number of our products and we will be happy to meet you and give you some first hand information about Living in the Baltic Sea's products and our activity.
The Archipelago Fair in The Royal Djurgården is since 1989 one of the most appreciated events in Stockholm with more than 50 000 visitors. It is an exhibition of the Swedish Archipelago, but also tourism in the countries around the whole Baltic Sea. The fair is also a meeting point for cooperation between countries in the Baltic region about culture, industrial life and trade.
Address: Wasahamnen - Stockholm - Sweden
For more information on the Fair:
www.skargardsmassan.se